| | |
| --- | --- |
| Complementary therapy organisations | |
There are many complementary organisations in the UK. By far the most reputable and established is the Royal Homeopathic Hospital, London (The Royal London Homeopathic NHS Trust). This page provides the contact details this this hospital and others in the UK
British Homeopathy Association This organisation is able to provides a list of medically qualified homeopathic practitioners, all of whom are members of the Faculty of Homeopathy. Produces a quarterly magazine - anyone interested in homoeopathy can become a friend of the BHA.
British Medical Acupuncture Society (BMAS) Promotes the use of acupuncture as a therapy following orthodox medical diagnosis by suitably trained practitioners. It seeks to enhance the education and training of suitably qualified practitioners, and to promote high standards of working practices in acupuncture among such practitioners, by means of tests, examinations, and accreditation procedures.
The Aromatherapy Council A voluntary self-regulatory body for the aromatherapy profession within the UK. Its primary role is to protect the public and also to maintain the integrity of the profession. It sets minimum standards for professional training and practice. It also handles disciplinary matters and complaints concerning registrants' fitness to practice.
Teachers of the Alexander technique Provides a list of teachers and information about the Alexander Technique, which teaches "right use" of the body to prevent strain and illness.
British Herbal Medicine association Aims to protect the interests of users, practitioners, manufacturers of herbal medicine. Has an information service and can refer to locally qualified herbal practitioners.
International Institute of Reflexology The IIR UK branch has a team of directors and tutors who provide quality training courses on a regional basis. Their website provides a reflexology search facility.
International federation of Aromatherapists Produce lists of UK practitioners and registered schools (free of charge). They will take calls if urgent but prefer stamped addressed envelopes with requests. Publish quarterly journal 'Aromatherapy Times' - available on subscription.
British Institute of Musculoskeletal Medicine
27 Green Lane, Northwood, Middlesex HAG 2PX.
Tel/Fax: 01923 220999. Email: BIMM@compuserve.com
Society of Orthopedic Medicine
c/a Amanda Sherwood, administrator.
Tel: 01454 610255 URL: www.soc-ortho-med.org c/a Amanda Sherwood, administrator.
Tel: 01454 610255 URL: www.soc-ortho-med.org c/a Amanda Sherwood, administrator.
London College of Osteopathic Medicine
8-10 Boston Place, London NW 1 6QH.
Tel: 0171 262 5250. Fax: 0171 723 7492
Bristol Cancer Help Centre
Grove House
Cornwall's Grove, Clifton,Bristol
Avon BS8 4PG
Tel: 0117 980 9500 (reception)
Tel: 0117 980 9505 (helpline)
The Bristol Cancer Helpline.
A unit which brings together holistic healthcare practitioners for mutual support and personal and professional development. Publications include self-help books and tapes ranging from breathing and relaxation to medication and diet. This centre is staffed by doctors, nurses and therapists working in complementary medicine. They can provide information on complementary treatments, alternative diets, holistic medicine, counseling and relaxation.
The Council for Complementary and Alternative Medicine
Park House
206-208 Latimer Road
London NW10 6RE
Tel: 0181 968 3862
The Institute for Complementary Medicine
PO Box 194
London SE16 1QZ
Tel: 0171 237 5165
---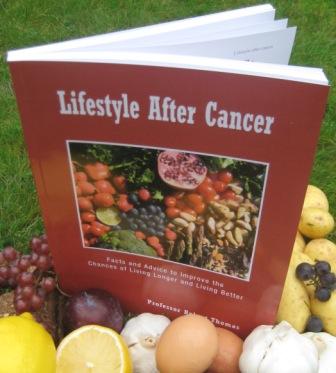 Further information The book Lifestyle After Cancer summarises the lifestyle evidence from around the world and provides practical advice for all stages in the cancer journey. A detailed film available in English, Italian, Urdu, Bengali, Gujarati & Hindi explains Radiotherapy & Chemotherapy. Cancernet.co.uk is a comprehensive cancer information resource written by an experienced team of doctors, health professionals and patients. It contains links and information on: Specific cancers: Breast | Prostate | Bowel. Cancer treatments: Chemotherapy | Radiotherapy | Hormones | Biological agents | Complementary therapies . Lifestyle and cancer: Exercise | Diet | Smoking | Sunbathing | Alcohol. Tips to help with symptoms and side effects. Financial issues: Traveling | Travel insurance| Links to support groups | Books | Tests for cancer | Clinical trials | What is cancer | How to avoid cancer | Glossary | About us | Disclaimer.