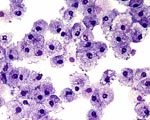 The word cancer is generally used to describe a malignant mass of cells that can develop in any organ of the human body. This mass of cells has lost the regulatory mechanism which normal cells possess. Normal cells grow to their desired size, space themselves out evenly - with a good respect for their neighbours and die when they are supposed to - in order to make room for healthy young cells to take over their function. The hallmarks of malignant growth (cancer) include cells that:-
Grow as fast as they can (rapid growth).

Don't die when they ought to (impaired apoptosis).

Clamber on top of each other and quickly run out of space in the organ they started in.

They not only expand the organ but also infiltrate and invade their neighbouring structures causing considerable damage.

The other way cancers can make room for themselves is to break off (loose adhesion) and spread to another part of the body and start growing there. This is called developing metastasise or secondary deposits and is the other hallmark of malignancy.
Growths or tumours which have the ability to invade and metastases are, therefore, called malignant tumours or cancer, whereas those which grow but don't invade and metastasise are called benign tumours.
What cells or organs do cancers come from? Any cell in the body can potentially become cancererous but the broad categories are:-
Glands - adenocarcinomas (eg breast, pancreas, prostate, mucous glands in gut and lung.

Surfaces of structures - squamous cell carcinomas (eg skin, lung, head and neck area)

Bladder of linings of the tubes from the kidney - Transitional cell carcinoma)

Muscles, nerves and connective tissues - Sarcomas

Starting in lymph nodes - Lymphomas

Blood forming structures - leaukaemias

From cells to support the brain cells - Gliomas

Sometimes the cells of organs can change form one type to another (dysplasia) and they a cancer form from that ( squamous cell carcinoma from lung, oesphagous or bladder).
Treatments for specific cancers:
---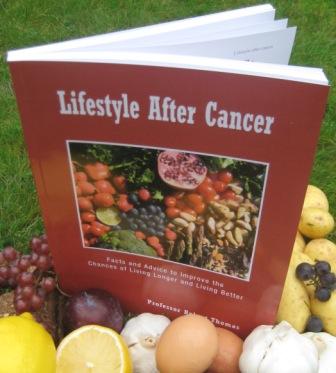 Further information The book Lifestyle After Cancer summarises the lifestyle evidence from around the world and provides practical advice for all stages in the cancer journey. A detailed film available in English, Italian, Urdu, Bengali, Gujarati & Hindi explains Radiotherapy & Chemotherapy. Cancernet.co.uk is a comprehensive cancer information resource written by an experienced team of doctors, health professionals and patients. It contains links and information on: Specific cancers: Breast | Prostate | Bowel. Cancer treatments: Chemotherapy | Radiotherapy | Hormones | Biological agents | Complementary therapies . Lifestyle and cancer: Exercise | Diet | Smoking | Sunbathing | Alcohol. Tips to help with symptoms and side effects. Financial issues: Traveling | Travel insurance| Links to support groups | Books | Tests for cancer | Clinical trials | What is cancer | How to avoid cancer | Glossary | About us | Disclaimer.