.

Abiraterone (Zytiga) is an establised hormonal therapy for prostate cancer. The EU license was granted in September 2011. Abiraterone is now indicated for men who have progressed on hormone therapy and have received or been unsuitable for taxotere chemotherapy. In September 2012 the UK NICE committee rules it was cost effective and should be available on the NHS. Another drug in the same category is called enzalutamide.

Background evidence The results of a UK trial of abiraterone have been published recently involving men with advanced metastatic advanced prostate cancer. This was a phase 3 study to comparing the clinical benefit of

abiraterone acetate

plus prednisolone with placebo plus prednisolone in patients with metastatic castration-resistant prostate cancer. It was published in the Journal of Clinical Oncology and involved men with prostate cancer (CRPC) who have already received hormones for their disease failed one or two chemotherapy regimens. At least one of the previous chemotherapies must have contained docetaxel. An update of this trial was also published in the ESMO conference Milan 2010. The results suggest that abiraterone will be a useful addition to the available drugs for Hormone refractory prostate cancer.

How does abiraterone work? It blocks the formation of the male hormone testosterone by inhibiting an enzyme called CYP450c17, also known as 17α-hydroxylase/17,20 lyase. This enzyme is involved in the formation of DHEA, which ultimately is metabolized into testosterone.

The Primary Outcome Measure of the trial was overall survival and the secondary outcome measures was the proportion of patients achieving a PSA decliine ≥ 50% according to Prostate Specific Antigen Working Group (PSAWG) criteria. Men in this and another similar study were given 1000mg of abiraterone daily.

The results showed that in this category of disease abiraterone lowered PSA, it shrank the size of tumours and doubled their rate of survival. (in effect about by about 3 months).

These are promising results but further tests are necessary. Only through well conducted research will we be able to truly know the full benefit of this drug. Cougar Biotechnology Inc. of Los Angeles, the company which owns abiraterone, expects the drug to reach the market in 2011. In the mean time it is only available in a trial setting. (About clinical trails)

Information on the latest Abiraterone trial presented in ESMO 2010
Results have been released from a pre-specified interim analysis of a randomized, placebo-controlled Phase 3 study for abiraterone (COU-AA-301). Data were presented by Principal Investigator, Dr Johathan de Bono, (the Institute of Cancer Research) at ESMO in Milan.

This study included 1,195 patients with metastatic advanced prostate cancer (castration-resistant prostate cancer, or CRPC) previously treated with one or two chemotherapy regimens, at least one of which contained docetaxel. The results demonstrate that patients treated with abiraterone acetate plus low dose prednisone/prednisolone showed a significant improvement in overall survival compared to patients treated with prednisone/prednisolone plus placebo – specifically:

Treatment with abiraterone acetate resulted in a 35 percent reduction in the risk of death (HR=0.65; 95 percent CI: 0.54, 0.77; p<0.0001) and a 36 percent increase in median survival (14.8 months vs. 10.9 months) compared with placebo.

Patients who received abiraterone acetate and low dose prednisone/prednisolone also showed significant improvements in secondary study endpoints when compared to the prednisone/prednisolone plus placebo group: time to PSA progression (TTPP) [median 10.2 months for abiraterone acetate vs. 6.6 months for placebo, HR=0.58 (95 percent CI: 0.46, 0.73); p<0.0001] and an increase in radiographic progression free survival (rPFS) [median 5.6 months for abiraterone acetate vs. 3.6 months for placebo, HR=0.67 (95 percent CI: 0.58, 0.78); p<0.0001]. Total PSA response, defined as greater than or equal to a 50 percent decrease from baseline, was achieved in 38 percent of patients treated with abiraterone acetate vs. 10 percent in the prednisone/prednisolone plus placebo group [p<0.0001].

Patients in the abiraterone acetate group experienced more mineralocorticoid-related adverse events than those in the prednisone/prednisolone plus placebo group. The most frequent adverse events were fluid retention (30.5 percent vs. 22.3 percent) and hypokalemia (17.1 percent vs. 8.4 percent). Grade 3/4 hypokalemia and hypertension were more frequent in the abiraterone acetate arm than in the placebo arm (3.8 percent vs. 0.8 percent and 1.3 percent vs. 0.3 percent, respectively). Liver function test abnormalities were observed in 10.4 percent of abiraterone acetate treated patients compared to 8.1 percent in the prednisone/prednisolone plus placebo group. Cardiac disorders were observed in 12.5 percent of abiraterone acetate patients vs. 9.4 percent of patients who received placebo. Mechanism-based adverse events were amenable to medical management and distinct from adverse events commonly associated with cytotoxic chemotherapy.

This randomized, double-blind placebo-controlled Phase 3 study was conducted in 147 centers in 13 countries. Patients with metastatic advanced prostate cancer previously treated with docetaxel (N=1,195) were randomly assigned 2:1 to receive abiraterone acetate (1000 mg once daily) plus prednisone/prednisolone (5 mg twice daily) (N = 797), or placebo plus prednisone/prednisolone (N = 398). The primary endpoint was overall survival.

More about prostate cancer (Prostate cancer UK clinical guidelines):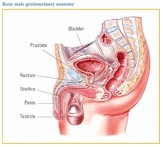 Presenting symptoms: Possible symptoms of prostate cancer include blood in the urine or semen, pain and trouble passing urine, frequent urination (find out more).
UK incidence: The risk of this condition increases with the age, generally men over the age of 50 are affected. In the UK nearly 32,000 men are diagnosed every year with prostate cancer which causes more than 10,000 deaths every year. Overall, one men in fourteen will get prostate cancer at some point in his life.
Types: Although there are several cell types in the prostate, nearly all prostate cancers start in the gland cells. This kind of malignancy is known as adenocarcinoma (find out more).
Risks factors: Most cases of this condition are diagnosed in men over the age of 65. There are usually no predisposing risk factors but there is some evidence of associations with a previous poor diet (high in fat, low in fruits and vegetables), being a black male, men who have a strong family history of the disease are at greater risk. (find out more)
Tests to determine a diagnosis and help decide on treatment options: Prostate-Specific Antigen (PSA) blood test, Digital Rectal Examination (DRE), transrectal ultrasound (TRUS), biopsy (find out more)
What determines the treatment options and prognosis:
The stage of the cancer (what part of the organ is affected and how large that part is, the extent of spread)
The type of cells and how aggressive they look under a microscope (grade) - in this case referred to as Gleason score
Age and general health of the patient
Whether the condition has just been newly diagnosed or has recurred
Level and rate of rise of PSA
Treatment options (find out more): Prostate cancer can often grow very slowly and most men with this diagnosis live their lives without it causing any problems to them. Therefore there is a lot to consider when deciding the best way to treat prostate cancer. It may take more than one visit to your doctor to discuss all your concerns and you may want to consider getting a second opinion. Make sure all your concerns and questions have been answered before you decide on a treatment. Your treatment plan may involve one or a combination of treatments: