Radical prostatectomy is a major surgical procedure in which the surgeon removes the prostate gland, usually through an incision in the lower abdomen. It is particularly common in the U.S. where 40% are also followed by radiotherapy due to seminal vesicle involvement or incomplete excision margins.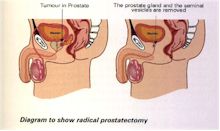 There are three main types of radical prostatectomy:
Radical retropubic prostatectomy is a common medical procedure where the entire prostate and adjacent affected lymph nodes are removed through an abdominal incision. For retropubic prostatectomy, the incision is located between the navel and pubic bone. This surgery can be performed under general or local anesthesia . The advantage of retropubic prostatectomy is that it provides a better chance of sparing the urethra by preserving urinary continence and the erectile function.
Radical perineal prostatectomy is a rare medical procedure where the prostate is removed through a small incision cut between the scrotum and the rectum. This type of prostatectomy is less invasive and the patient recovers faster. It is performed in early stages of cancer when the lymph nodes are not affected and for very obese patients.
Laparoscopic prostatectomy is a procedure during which the prostate and affected lymph nodes are removed through a small abdominal incision. This procedure uses a special medical instrument called laparoscope (a thin lighted tube) to remove the prostate. The advantages of this type of surgery are greater precision and control, less blood loss and pain, faster recovery, and shorter hospitalization.
Transurethral resection of the prostate (TURP) is another type of prostatic surgery. This surgical procedure uses a resectoscope (thin, lighted medical instrument with a cutting tool) to remove tissue from the prostate. This is sometimes performed to relieve symptoms caused by tumour before other cancer treatment is given. TURP may also be performed on patients who are not suitable candidates for radical prostatectomy because of their age or general bad health condition.
Risks and side effects
Surgery, as a prostate cancer treatment option, has several risks and possible side effects. Apart from the general risks that accompany any type of surgery such as anesthesia risks (heart attack, stroke, blood clots), the danger of infections and bleeding during and after the surgery, specific side effects such as urinary incontinence and erectile dysfunction (impotence) are often experienced by patients after the radical prostatectomy.
---
Further general information Your doctors and specialist nurses are in an ideal position to give you relevant information on your disease and treatment as they know your individual circumstances. Cancerbackup has a help line (0808 800 1234) and a prize winning video available in English, Italian, Urdu, Bengali, Gujarati & Hindi explaining Radiotherapy & Chemotherapy. Cancernet.co.uk has over 500 pages describing cancer, its management, practical tips and tool which patients, their carers and their doctors have found helpful during the cancer journey.
---
Home | Cancer management | Cancer treatments - Chemotherapy ¦ Radiotherapy ¦ Hormones ¦ Biologicals | Complementary | Lifestyle - Exercise ¦ Diet ¦ Smoking ¦ Sun | Tests for cancer | Books | Videos | Travel | Insurance | Symptoms | Side effects | Clinical trials | Glossary | Support groups & links | About cancer | About us | Disclaimer

---