| | |
| --- | --- |
| Ductal carcinoma in situ (DCIS) | |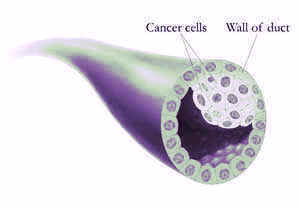 Cancer is usually thought of as a disease that grows out of control. This does not apply to ductal carcinoma in situ (in situ = in place). It is often referred to as pre-cancerous, non-invasive condition which originates in the ducts of the breast (channels within a breast that carry milk to the nipple) and does not grow beyond them which basically means that the tumour does not spread to any other parts of the breast tissue nor to any surrounding lymph nodes. Ductal carcinoma in situ has usually no presenting symptoms and thus it is frequently first diagnosed with screening mammography before the patient can feel any lumps or changes within the breast. Suspected DCIS is often confirmed by a breast biopsy in which a small sample of the breast tissue is removed to be investigated under the microscope.
Though DCIS is not considered to be cancer it should not be left untreated as there still remains a possibility that these abnormal cells may invade nearby breast tissue and eventually become invasive form of cancer.
In most cases, this condition is treated with breast conserving surgery (lumpectomy) followed by radiotherapy. It may be treated with lumpectomy without radiation or when the area affected is large treatment in the form of mastectomy (removal of the whole breast) may be recommended after the diagnosis. When treated with lumpectomy, the affected breast tissue is removed as well as an area of healthy breast tissue around it (called wide local excision). This has to be done to ensure that all affected tissue has been removed. If this excision has been performed successfully the pathologist should see clean margins under a microscope. This means that the edge of surrounding breast tissue which has been removed does not contain any cancerous cells.
Whichever treatment you receive, you will have regular follow up examinations and mammograms to make sure any recurrence of this condition is picked up as quickly as possible.
Besides DCIS, there is a condition that originates and is confined to the breast lobules (glands producing milk) which is commonly referred to as (Lobular)CIS. This condition will not be dealt with within this page as it is not considered to be a case of pre-malignancy nor malignancy.
Further general information Your doctors and specialist nurses are in an ideal position to give you relevant information on your disease and treatment as they know your individual circumstances. Cancerbackup has a help line (0808 800 1234) and a prize winning video available in English, Italian, Urdu, Bengali, Gujarati & Hindi explaining Radiotherapy & Chemotherapy. Cancernet.co.uk has over 500 pages describing cancer, its management, practical tips and tool which patients, their carers and their doctors have found helpful during the cancer journey.
---
Home | Cancer management | Cancer treatments - Chemotherapy ¦ Radiotherapy ¦ Hormones ¦ Biologicals | Complementary | Lifestyle - Exercise ¦ Diet ¦ Smoking ¦ Sun | Tests for cancer | Books | Videos | Travel | Insurance | Symptoms | Side effects | Clinical trials | Glossary | Support groups & links | About cancer | About us |
---