The UK phytochemical rich food and probiotic, covid virus intervention - The Phyto-v study
---
---
A randomised double blind placebo controlled trial evaluating the influence of a phytochemical rich whole foods capsule plus a probiotic capsule on clinical outcomes among individuals with covid-19 viral infection
---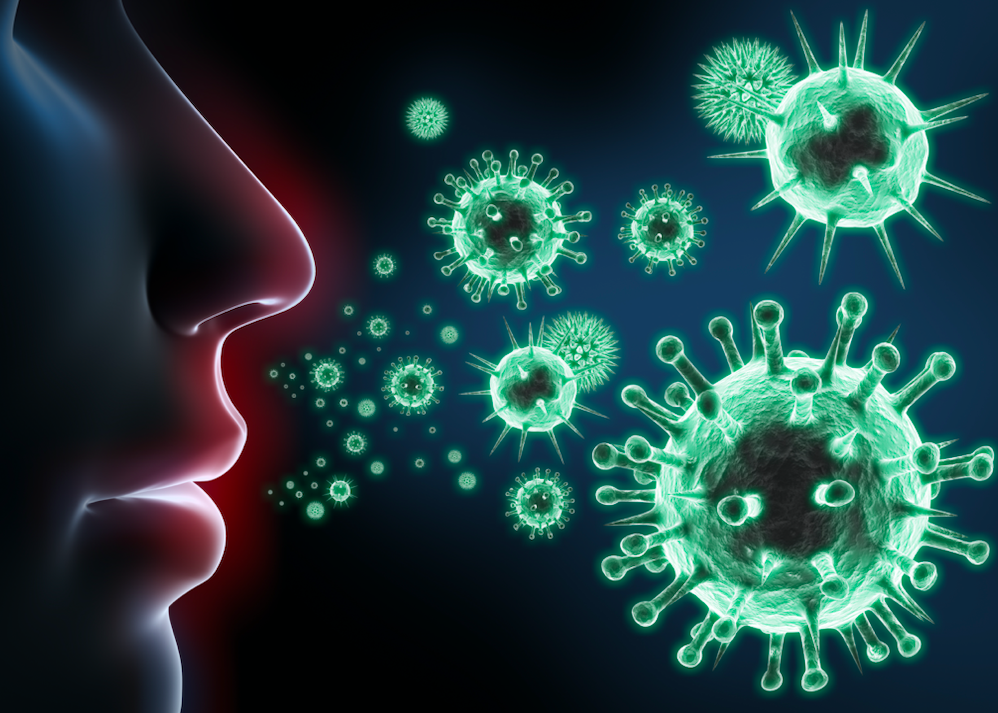 IRAS (Ethics) Number: 282517.


EudraCT number: 2020-001532-1.
Protocol code: PACCT-20
Start date: 27th May 202
Trials Centre: The Primrose Research Unit Bedford


Background: Specific anti-viral treatments for Covid-19 infection are in development. In the mean time, management is supportive until agents and preventive vaccines are available. Most cases recover fully but about 20% require hospital treatments and 10% intensive care of which 50% are fatal. Treatments aim to support symptoms, secondary infection and thrombosis and ultimately to reduce the fatal cytokine storm. Although anyone can be affected by covid-19, data collected from hospitals across the world are showing that people with pre-existing health conditions or who are overweight are more vulnerable to the complications of infection and one possible explanation for this is a pre-existing poor gut health which could lead to a pro-inflammatory state.

Phytochemical rich concentrated foods are safe, can be developed rapidly and are ubiquitously available. Phytochemicals are naturally responsible for the colour, taste and aroma of foods. Their regular intake has been found to have multiple health benefits particularly reducing chronic degenerative disease and reducing excess chronic inflammation. Their biological mechanisms of action range from improving immune and oxidative capacity and efficiency to improving bacterial gut health. Laboratory studies investigating of a wide range of herbs and plants have also reported potential direct anti-viral properties via reduced viral attachment, penetration and absorption proliferation and shedding which in theory. If these benefits are extrapolated to humans to reduce the chase of catching the virus, suffering from it or spreading it to other people virus.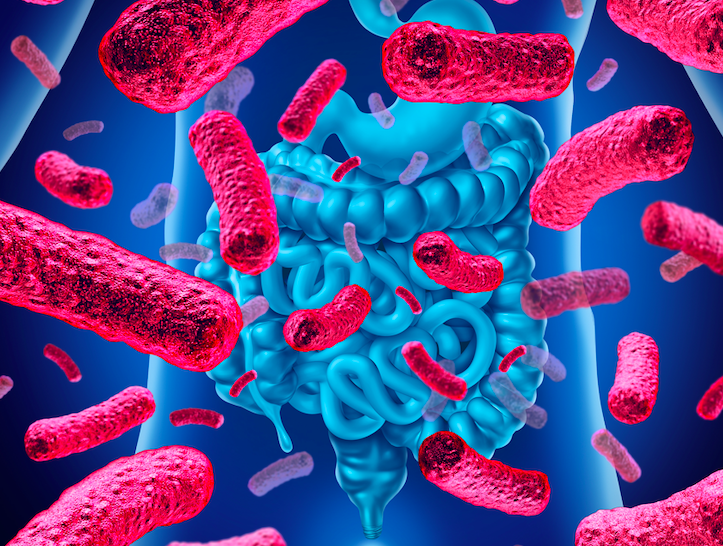 Probiotic supplements have also been reported to enhance gut flora, reducing chronic gut inflammation and improving gut wall integrity especially among individuals with preexisting health conditions or have diets high in sugar and meat and low in fruit and vegetables. A Cochrane review concluded probiotic capsules could reduce respiratory tract infections. It is important that probiotics are sources from GMP registered manufacturers and contain a wide spectrum of colony forming lactobacillus.

The phytochemicals particularly the polyphenol group, which show promise and are found in common foods include: The flavanone polyphenol hesperetin found in citrus fruits; the

Anthraquinone derivative aloe emodin found in Aloe Vera; Quertin, a flavonoid found in, onions, apple, pomegranate and citrus fruits; Apigenin a polyphenol found in parsley, chamomile, tea and fruit. Curcumin curcuminoids found in turmeric; ellagic acid found in pomegranate.

Purpose: The hypothesis for this study is that starting this nutritional interventions in for covid-19 positive patients displaying symptoms could shorten the severity or duration of illness.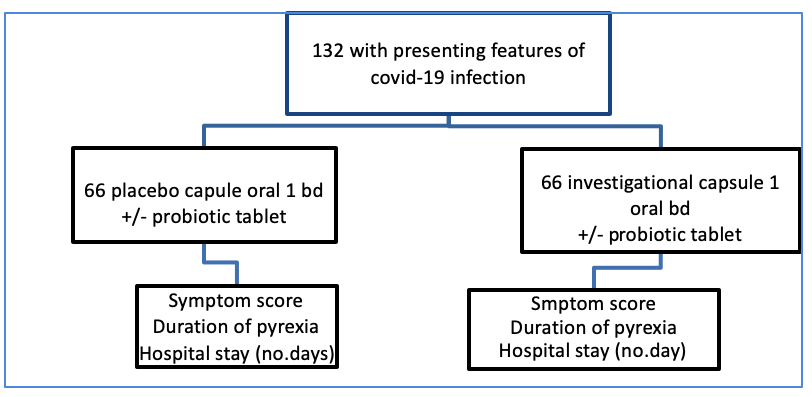 Methods: This is a double blind placebo controlled randomised trial involving patients attending Bedford Hospital or its screening centres with symptoms suggestive of covid-19. Participants will be given information about the study by the attending clinician and given a written information sheet explaining the details. On day 2, if the patients subsequently agrees to enter the study, via a telephone consultation, he/she will be randomised to either a phytochemical rich food supplement containing freeze dried extracts of phytochemical rich foods or placebo (1:1). In addition they will be given a capsule containing a lactobacillus probiotic bacterial blend or not (Donated to the trials unit by Yourgut+). These will be delivered to them, in boxes containing 60 tablets. Participants will be telephoned every other day by the trials nurse who will annotate the body temperature taken by the patient. Once a week the trials nurse will complete a Leicester cough scale, a Subjective wellness score and record any symptoms using the NCI common toxicity checklist. During the telephone consultation the nurse annotate whether other household members have developed any symptoms. If any house hold members develop symptoms they will be invited to enter the study.

End points: The primary end point will be time to recovery from start of the study (48 without a pyrexia). The secondary patient end points will the Leicester cough score; whether in-patient, intensive care or more serious consequences were prevented. A further secondary end point is whether household member subsequently develop symptoms of covid-19 infection.

In addition baseline, obesity, smoking, exercise and dietary factors will be correlated against outcomes in both randomised arms.

Power calculation and statistical analysis: Data will be collected and processed at the Primrose Research Unit Bedford Hospital. The randomization envelopes were generated externally by research staff at the University of Bedfordshire. Once all the data has been collected the database will be anonymised, locked and sent to the external freelance statistician Michael Couchi Statistician as well as external auditors.

Certification, MHRA and legal considerations:

This trial is sponsored by Bedfordshire NHS trust and designed by an international team of oncologist, intuitionalists and patients listed listed in the scientific committee. The national study was formally externally peer reviewed. It was registered and approved the National Ethics Committee, and registered by the National Institute of Health Research (NIHR). It was formally notified as a non-drug intervention by the Medicines and Health Regulatory Agency (MHRA).
---
Chief investigator:
Professor Robert Thomas
The Primrose Research Unit
Bedford and Cambridge University Hospitals
Professor of Exercise and Nutritional Science University of Bedfordshire