History - CV247 as developed by the late Dr John Carter MRCVS MB AcA (Veterinary Surgeon). Its formulation was based on over thirty years experience in treating cancer in Cats and Dogs, Dr Carter has demonstrated some interesting anecdotal responses. Each animal was treated at his veterinary surgery in Harrow, Middlesex.
Animals given CV247 were monitored by the named Veterinary Surgeon of the Imperial Cancer Research Fund and the chief Veterinary surgeon of the Ludwig Institute of Cancer research, Andor Sebesteny BVSc Dip BACT MRCVS. In this uncontrolled setting there appeared to be some tumour regression with no reported toxicity. These encouraging anecdotal results prompted Dr Carter to supply the formulation to human patients with terminal malignancy on a compassionate basis. Patients came to him by word of mouth and were seen in his own practice. Again in this prospective but uncontrolled setting there appeared to be some tumour regression or stabilization without any reported toxicity. IVY medical chemicals, the registered owner of CV247 sponsored clinical trials at Bedford Hospital starting in 2001 and two human trials have been completed so far:-
TRIAL ONE; Does CV247 influence quality of life & malignant progression ?
R Thomas, M Blades, M Williams and S Godward
Introduction: This study evaluated oral CV247 utilising types 1&2 cycloxegenase inhibition properties of salicylic acid and the anti-oxidant properties of copper gluconate, manganese gluconate and ascorbic acid combined with a diet rich in fresh fruit, vegetables, low in saturated fats, salt and artificial colour and preservatives.
Methods:
37 patients had progressive malignancy at trial entry (>2 consecutive increases in tumour markers >10% or radiological progression), had either extensive pre-treated or had diseases in which the benefits of starting conventional treatment were not certain (14 had prostate cancer, 2 ovary, 12 colorectal, 2 breast, 7 miscellaneous).
Results: CV247 was well tolerated. A bladder cancer patient with haematuria was withdrawn. 6 patients complained of grade I abdominal discomfort (3 requiring complete reversal with ranitidine), 6 had poor appetite, 4 bad taste, 2 haematuria, 4 lethargy, 2 joint pains, 1 weight loss and 1 dry skin. Serum copper & manganese levels remained normal.

The 2 ovarian carcinoma patients (progressing pre-trial on MRI with rapidly rising CA-125), had stable disease for 8 months and 14 months (continuing). A further 5 ovary cancer patients will be recruited into this study.

52% of 28 heavily pre-treated patients (all tumour types) had stabilisation for 3.5 months. No further trials are planned in this group.
6 (86%) of the
7 early prostate patients (no metastasis or hormone therapy, pre-trial increasing PSA, 5 post-radiotherapy) had mean stabilisation of 8.3 months (peaked between 2-3 months). 5 patients continue on improved quality of life and symptoms.
Conclusion: These interesting results justified a randomised double-blind trial comparing CV247 & diet versus salicylates alone, in this group of prostate cancer patients.
Publications:

Preliminary phase II results of the salicylate rich formula CV247 in patients with malignant disease. Robert James Thomas, Sara Godward, Madeleine M. Williams, Wassif F. Wassif. Abstract Book of the 27th ESMO Congress, Sup5, Pg 30.

Preliminary phase II results of the salicylate rich formula CV247 in patients with malignant disease. Thomas R, Godward S, Williams M, Wassif W. BOA Annual Scientific Meeting in association with BASO Cambridge September 2002.

Dietaryadvice combined with a salicylate mineral and vitamin supplement (CV247) has some tumour static properties - a phase II study. R Thomas, M Blades, M Williams and S Godward. Nutrition & Food Science 2005, Volume 35 Issue 6, 436- 451

Complemenatry and alternative medicine evidence online for cancer. J Richardson, K Pilkington and R Thomas. BJCM 2005, vol.2, no.2, pp10-12.

Diet, salicylates and their effect on prostate cancer. 2006. Robert Thomas, Cathryn woodward and Peter Williams. Brtitish Journal of Cancer Management volume 3, 1, pp 5-9.

TRIAL TWO; A randomised double blind phase II study of lifestyle counselling, salicylate compounds +/- dietary supplements in patients with progressive prostate cancer.

Robert Thomas.1,2,3, Roger Oakes4, Simon Russel3, Julie Gordon1, Madeleine Williams Nutrition & Food Science April 2009.

Background: A randomised, double blind, phase II study involving 110 men with progressive prostate cancer attending either Bedford or Addenbrookes' Cambridge University NHS trusts, between October 2003 and November 2007. All men at entry had progressive prostate cancer defined as an increase in serum PSA (on at least 3 consecutive values) greater than 20% over the proceeding six months (mean PSAdt of 11 months). They all received written and verbal dietary advice (less saturated fat, sugar, salt, processed food and more fruit vegetables, berries, pomegranates) and were randomised to receive SS alone or SS combined with, vitamin C, copper and manganese gluconates (CV247). They were withdrawn if their PSAdt shortened or their PSA rose by greater than 20% from trial entry.

Findings. At 12 months there was no difference in the number of men still in the study between SS or the supplement groups (21(55%) v 19 (45%) p = 0.92). Likewise the mean PSAdt and time to withdrawal was the same. In 40 of the 110 patients (36.4%) the rate of PSA progression reduced or halted. Fourteen (12.7%) had lower PSA levels 1 year. The other 26 (23.7%) had continued to experience a PSA progression but with a PSAdt significantly longer than trial entry and increase in PSA no greater than 20% from baseline. A further 10 patients were stabilised for 10 months (6 on supplement and 4 on sodium salicylate) then progressed. 10 patients were still in the trial at the time of evaluation. The treatment was well tolerated; men and their families enthusiastically complied with the lifestyle changes. Subgroup analysis showed that patients least likely to stabilise had received previous radiotherapy or had Gleason >7 grade.

Conclusion Further studies are required which randomise SS alone versus placebo to find out which aspect of this intervention had the therapeutic effect and whether this effect could be enhanced by patient selection. These data suggest that lifestyle intervention would be a welcomed by patients as an addition to active surveillance and if substantiated, this could potentially delay the need for more radical therapy and their associated toxicities.

Keywords. Prostate Cancer, diet, Sodium salicylate, copper, manganese, vitamin C, CV247
---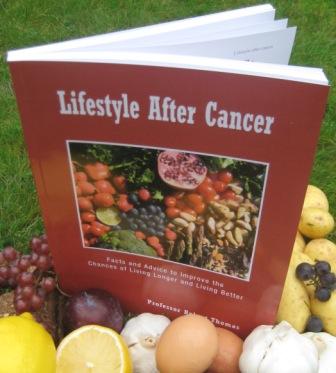 Further information The book Lifestyle After Cancer summarises the lifestyle evidence from around the world and provides practical advice for all stages in the cancer journey. A detailed film available in English, Italian, Urdu, Bengali, Gujarati & Hindi explains Radiotherapy & Chemotherapy. Cancernet.co.uk is a comprehensive cancer information resource written by an experienced team of doctors, health professionals and patients. It contains links and information on: Specific cancers: Breast | Prostate | Bowel. Cancer treatments: Chemotherapy | Radiotherapy | Hormones | Biological agents | Complementary therapies . Lifestyle and cancer: Exercise | Diet | Smoking | Sunbathing | Alcohol. Tips to help with symptoms and side effects. Financial issues: Traveling | Travel insurance| Links to support groups | Books | Tests for cancer | Clinical trials | What is cancer | How to avoid cancer | Glossary | About us | Disclaimer.