Radical prostatectomy is a major surgical procedure in which the surgeons removes the prostate gland, usually through an incision in the lower abdomen. It is particularly common in the U.S. where 40% are also followed by radiotherapy due to seminal vesicle involvement or incomplete excision margins.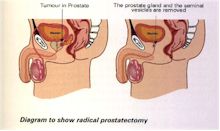 Advantages: Surgery is a one-time procedure which has the same control and cure rates as radiotherapy in early prostate cancer.
Disadvantages: Radical prostatectomy requires hospitalisation and is not tolerated well in older men who are not in overall excellent health. The side effects from surgery include impotence (inability to have an erection) in a high percentage of patients and incontinence (a loss of urinary control).
It should be reserved for younger patients with early cancer who are not eligible for radioactive seed insertion, who are not unduly concerned about the high risk of impotence or incontinence. It should also be considered in those with a history of prostatism (Chronic inlammation), have previously undergone a transurethral resection (TURP) or have a history of radiosensitivity.