| | |
| --- | --- |
| Healthy anti-cancer recipes | |

The section contains suggestions for meals which have been created by our resident ntuitionalist and chef. They are easily to prepare and show that eating healthily is not boring or expensive. They aim to have a good have a good balance of antioxidants, essential fats and minerals.
Here are three examples to start with but you can email us if you wish to receive further practical recipes. (your email will never be passed on to a third party).
Seafood Thermidor
For this recipe any type or combination of fish and shellfish can be used depending on what you prefer.
Ingredients (Serves 2)
2 x 5 oz. of any fresh fish, skinned or shelled.
½ a lemon.
Parsley to garnish
Paprika

Sauce
1 tablespoon butter.
½ an onion, finely chopped
1 stalk of celery, finely chopped.
1 tablespoon of plain flour
2 bay leaves.
A couple of sprigs of fresh thyme or ½ a teaspoon of dried thyme
½ a pint of milk. Add double cream if you are trying to increase your weight
¼ teaspoon English mustard
A good splash of Worcester sauce. 2 tablespoons of dry sherry. Salt and pepper
Method
Melt the butter in the pan over a low heat. Add the onions and celery and allow to fry gently until soft. Do not allow to brown as this will affect the colour of the sauce.

Add the flour and mix well. Cook for a couple of minutes.

Slowly add the milk, stirring the mixture so that you have a smooth, lump-free sauce.

Add the thyme, bay leaves, Worcester sauce, sherry, mustard, salt and pepper. Cover and allow to simmer under a low heat for about 20 minutes. (Note – you may find that the longer you leave the sauce to simmer the better it tastes). Stir occasionally and do not allow to stick to the bottom of the pan. Sieve the sauce mixture into another pan or bowl and keep warm.

Once your thermidor sauce is ready, steam or poach your fish or shellfish and arrange on a warmed plate.

Spoon the sauce over the fish or shellfish and place plate under a hot grill until the sauce bubbles. Sprinkle with a little paprika if desired

Garnish with a spring of parsley and a wedge of lemon.

Serve with freshly cooked vegetables or salad and potatoes.
Smoked Mackerel and Couscous Salad
This dish is quick to prepare, very economical and can easily be adapted to suit your tastes.
Ingredients (serves 2)
A red sweet pepper
4 spring onions (salad onions)
8 oz. smoked mackerel (or any tinned or cooked fish)
4 oz. couscous (or cooked rice)
6 fl. oz. boiling water
A handful of frozen peas
A knob of butter
Parsley to garnish
½ a lemon or bottled lemon juice
Salt and pepper
Method
Wash the pepper and cut in half. Place under a grill with a moderate heat until the skin has browned and appears wrinkled. Place in a bowl of cold water to cool and carefully peel off the skin. Remove and finely slice lengthways. Place in a medium sized pan.
Chop the spring onions quite finely and add to the pan. Also add the peas.
Remove skin from the mackerel and use a knife and fork to break into bite size pieces and add to the pan. (Do the same for tinned or cooked fish).
Add the couscous to the pan and pour on boiling water. Add the butter, a pinch of salt and briefly stir the mixture. Cover with lid and leave to stand for 10 minutes (or until the water has been absorbed). The couscous should now be soft.
Either serve immediately or leave to cool and eat as a salad.
Add salt and pepper to taste.
Garnish with chopped parsley and add lemon juice if desired.
If using cooked rice instead of couscous, place in a bowl and add the pepper, peas, spring onions and a little olive oil instead of butter. Miss out stage 4.
Grilled Chicken with Mediterranean Vegetables & Pasta
You can vary this dish using any other meat you like, as long as it is lean and is suitable for grilling, or fish. The vegetables and herbs can also be varied to suit your taste and the season.
Ingredients (serves 2)
1 medium sized aubergine
4 spring (salad) onions
1 small Spanish onion
2 courgettes
1 large sweet red pepper
1 clove of garlic
1 heaped teaspoon of mixed dried herbs
2 lean chicken breasts
4 oz dried pasta
2 tablespoons of olive oil
The juice of one lemon
Salt and black pepper
Method
Slice the aubergines quite thinly, place on a plate and sprinkle salt all over. This is to remove some of the excess water in aubergines. Leave for about an hour.
In the meantime cut the red pepper in two and place under a medium grill until the skin is crinkled and browning but not burnt. While the pepper halves are still hot, plunge them into a bowl of cold water and peel off the skin. (This step is optional and for speed you may like to keep the skin on). Slice the pepper halves finely length ways and set aside.
Slice the courgettes and onions, and grate or crush the garlic. Place the courgettes, onions and red peppers in an oven-proof dish that is suitable to place under a grill.
Mix the dried herbs (if you have fresh herbs then use a couple of heaped tablespoons) with the olive oil, lemon juice, garlic and black pepper.
Rinse the aubergines very well (2 or 3 times) in plenty of water to remove the excess salt and add to the other vegetables.
Pour the olive oil mixture evenly over the vegetables and place the dish under a medium-heat grill for approximately 15 minutes or until just done. You don't want to over cook the vegetables.
Once done, move the vegetable pan to the bottom of the oven. Place the chicken breasts on the grill pan and season with a little salt and pepper, and lightly brush with olive oil. Grill under a medium-heat grill according to manufactures instructions, turning the breasts a couple of times. Do not allow to burn but always make sure the chicken is cooked through thoroughly, and not pink inside. If any part of your chicken in uncooked you may run the risk of contracting salmonella poising.
After you have put the chicken under the grill, start cooking the pasta according to the manufacturers instructions. Once cooked, drain thoroughly and gently mix in the vegetables. Serve with the chicken breast.
Chicken and Cashew Nuts in a Black Bean & Ginger Sauce
This meal is a good source of soya and is very quick to make. Other meats and tofu / quorn can be used as an alternative to chicken.
Ingredients (serves 2)
2 medium sized skinless chicken breasts (or skinned and boned chicken thighs)
4 spring onions
Half a teaspoon freshly grated ginger (optional)
1 sweet red (bell) pepper
1 tablespoon extra virgin olive oil
1 teaspoon sesame oil
A handful of unsalted cashew nuts
3 tablespoons black bean sauce
100g of sliced water chestnuts
100 mls tap water
150g rice
Method
De-seed and finely slice the red pepper and chop the spring onions.
Using a different board and knife, cut the chicken breast or thighs into inch cubes.
Wash the rice thoroughly, add water and cook according to the manufacturer's instructions. Do not add salt as black bean sauce tends to be quite salty.
Add the olive and sesame oils to a wok or large non-stick pan, and start to fry the chicken on a medium/high heat. When the meat has sealed, add the red pepper, water chestnuts, grated ginger and cashew nuts.
Continue to fry for a couple of minutes and add the black bean sauce, water and spring onions. Reduce the heat and cook for a further 5 minutes or until the chicken is cooked through thoroughly and is no longer pink on the inside. Do not add any salt.
Serve the rice with the chicken
The HRT loaf makes two loaves. Ideally have a slice a day with butter.
Ingredients:
100g / 3- ½ oz – soya flour
100g / 3- ½ oz – whole-wheat flour
100g / 3- ½ oz – porridge oats
100g/ 3-½ oz - linseeds
50-g/ 2 oz – sunflower oil
50-g/ 2 oz – sesame seeds
50-g/ 2 oz – flaked almonds
2 pieces stem ginger fierily chopped
200g /7oz raisins
½ tsp nutmeg
½ tsp cinnamon
½ tsp ground ginger
1 pb /7fl oz soya milk
1 tbsp malt extract
Instructions:-
Put the dry ingredients into a large bowl and mix thoroughly. Than add the soya milk and malt extract. Mix well and leave to soak for about 30 mins. If the mixture is too stiff, add some more soya milk. Spoon the mixture into two lightly oiled loaves, this lined with greaseproof paper. Bake in the oven at 190 C / 375 F / Gas Mark 5 for about 1 ¼ hrs, or while cooked through (test with skews). Turn out and leave to cool. Keep in refrigerator.


---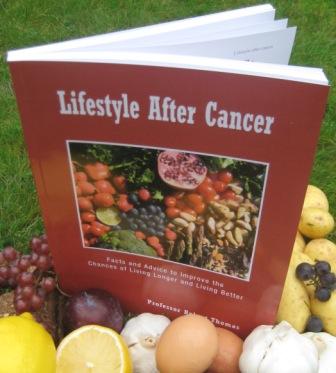 Further information The book Lifestyle After Cancer summarises the lifestyle evidence from around the world and provides practical advice for all stages in the cancer journey. A detailed film available in English, Italian, Urdu, Bengali, Gujarati & Hindi explains Radiotherapy & Chemotherapy. Cancernet.co.uk is a comprehensive cancer information resource written by an experienced team of doctors, health professionals and patients. It contains links and information on: Specific cancers: Breast | Prostate | Bowel. Cancer treatments: Chemotherapy | Radiotherapy | Hormones | Biological agents | Complementary therapies . Lifestyle and cancer: Exercise | Diet | Smoking | Sunbathing | Alcohol. Tips to help with symptoms and side effects. Financial issues: Traveling | Travel insurance| Links to support groups | Books | Tests for cancer | Clinical trials | What is cancer | How to avoid cancer | Glossary | About us | Disclaimer.